this is a lovely thin jacket! fun and fashionable! three buttons in the upper front, hugs the bust and upper waist. then it flows straight down with an opening in the lower middle. great when you wear a teeshirt color opposite of cream underneath the jacket because the opening will reveal it! The sleeves are long and flares out a bit. Sleeves are foldable and cuttable. The hemming is shown throughout the piece for aesthetic purposes. great short neck collar. grab this rare jacket now!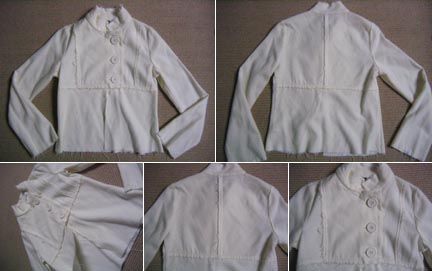 size small/medium

measurements:

bust: 17" laid flat across


material: wool/acyrlic

condition: never worn out... like new!

purchased for $48, yours for $32! take it from me cause i've never worn it out even though i've had this in my closet for over 2 years now!!! it deserves more love than i can give it... oh, and it's
super
cute!
(especially with jeans!)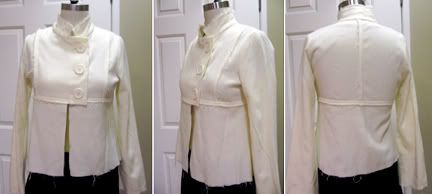 take me home now!
email
shopmycloset@gmail.com to buy!