SATURDAY

Octber 29th

, 12 P.M. - 5 P.M . FREE!
The Canvas Cafe & Gallery - 1200 9th Ave at Lincoln, SF

Feria Urbana is an urban fair made up of 20-25 local artists and designers selling a range of items at accessible prices. Find the latest chic and unique clothing, jewelry, home accessories, artwork, fashion accessories and much more. It's a shopping experience like no other.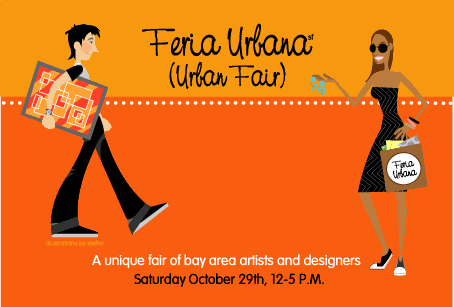 Come support your local art community - buy something for yourself or for a gift. Grab a bite to eat or a drink and lounge in the sun on the front patio, for a little shopping break!

Featuring: Peggy Li, Cyncha's Creations, Zoe Zoe Jewelry, Ruchi,
Yamuna Wali Landsberg
, Pistachio, a.k.a design, Stellarocco Designs, Millefiore, Pink Pineapple Design, Queen Puff Puff, Alabel, Multani du fond du coeur, The Submarine Assemblage, Coco-luxe Confections, J.T.C. Enterprise, One Hot Tomatoe, Brilliant Bindery, Satti, Hilary's Dolls