emg vintage 2nd birthday blowout!


saturday, november 26, 2005, cash only, DJs!
sale 2-6pm, party 10pm-4am
tribeca grand hotel - must RSVP@houseofgood.com
www.houseofgood.com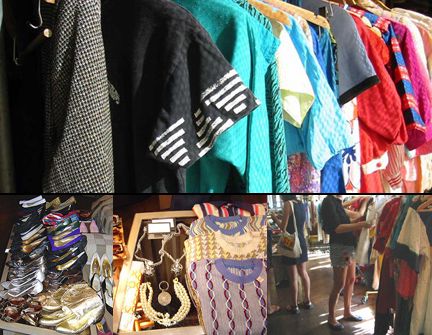 Very special birthday guest sellers include

WOWCH, I-Heart, Nisian Hughes

, and more.

-A.P.C. Hooded Winter Coat $100.
-A.P.C. Military Jacket $75.
-Various A.P.C. Jeans $50.
-WOWCH bags $15-20
-WOWCH shirts $25!!
-Holiday Party Dresses!! $25-30
-YSL Rive Gauche printed silk dress (perfect condition) $140
-Miu Miu high-heeled dark brown loafers
-hand knit sweaters in various colors $20-30
-Marc Jacobs heels- white with black spots
-Alexandre Matthieu printed color jacket $50
-Gaspard Yurkevich long-sleeved dress maroon dress $40
-Vintage Adidas sneakers
-Vintage Levi's $20
-black vintage St John sweater dress with neckline detailing $30
-Diane Fres 1970's floral print silk dress $50
-Notch-collar double breasted burnt orange leather trench $70
-50's print long-sleeve silk dress $50
-Adidas originals handmade tutu dress black/yellow $80
-the Alaskan fur company black full length fur coat $50
-long velvet skirt with woodland pattern $65
-sequined minidress with deep scoopneck/back $35
-ecru sweaterdress with three bow detail on front $35
-amber trenchcoat with large buttons $50
-Marc Jacobs white faux-fur jacket
-Nisian Hughes will be selling his shirts and sweatshirts, called 45.