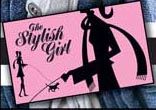 Friday-Saturday, November 11-12, 2005, 5-10pm, 10am-4pm, free
610 21st Street (btwn. Montana Ave. and San Vicente Blvd.) Santa Monica, CA

Stylish Girl is having its most spectacular winter sale where everything is at 20-40% below retail. Beautiful clothing from LA's most talented designer Louis Verdad as well as precious fine jewelry by Helaine Turner with Jayson Hanson. Not to be missed lush winter goodies from edward an, Zooey T's, Beautiful People, Chalc, Penquin. Cashmere sweaters and wraps by Cris Cashmere and don't forget Piper Dano's Antique Jewelry.