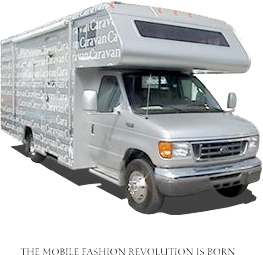 Launched June 2005 in New York City, Caravan is the ultimate mobile shopping experience. A fashion boutique on wheels offering the newest and coolest innovative products from around the globe.

Caravan's products and merchandise are a hip mix of contemporary clothing, accessories, gift items, and art. This includes a wide range of products from great fitting jeans, swimwear, handbags, dresses to home and gift items such as stationary, candles and books.

The name Caravan lends itself to an eclectic evolving experience, a platform that will always transform with new products and ideas. Every visit to Caravan will offer a fun and unique experience.

Thursday, March 9th, 2006
-Caravan will be on Lexington Avenue and 77th Street from 12:00pm to 4:00pm.

Friday, March 10th, 2006
-Caravan will be on Lafayette and Astor Place from 12:00pm to 9:00pm.

Saturday, March 11th, 2006
-Caravan will be on 9th Avenue and 13th Street from 4:00pm to 1:00am.

Sunday, March 12th, 2006
-Caravan will be on 7th Avenue and Christopher Street from 3:30pm to 6:30pm.

Due to the mobile nature of Caravan, it is sometimes difficult to guarantee our location in advance. Please call 917.415.4658 to find Caravan near you.