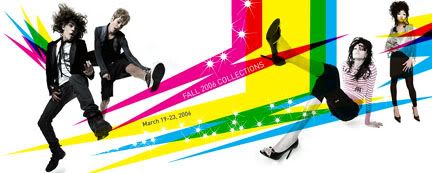 LA FASHION WEEK Details:
Los Angeles Fashion Week Fall '06 is Friday, March 17 to Friday, March 24, 2006.
FGI LA Panel discussion on Product Placement at FIDM Gallery: March 16.
Gen Art's THE NEW GARDE at Park Plaza: March 17.
Mercedes Benz Fashion Week at Smashbox Studios: March 19-23.
----------------------------------------------------
Friday, March 17th, 8:00pm - 11:00pm
Park Plaza Hotel, 607 South Park View Street, Los Angeles, CA
TICKETS here.

Gen Art invites you to The New Garde: A Celebration of Innovative LA Fashion, the kick-off of LA Fashion Week on Friday, March 17th. This amazing fashion event taking place at the Park Plaza Hotel will feature three of L.A.'s hottest and most innovative designers in live model installations!