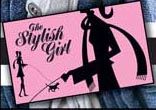 Stylish Girl Spring Fling Sample Sale


March 31 - April 1, 2006
Fri 5pm-8pm, Sat 11am-4pm
10562 Louisiana Ave. (5 Blocks east of Overland Ave and Olympic Blvd.) West Los Angeles, CA
RSVP required.

Spring fever has arrived at The Stylish Girl with what's hot now,fun,feminine skirts,dresses,halters,camis,T's and jeans from Louis Verdad, Lily McNeal, Lulu Lame, Penquin, Beautiful People, Pulcini, Eva Franco and more! Don't forget their great accessories too, awesome belts, purses and jewelry from floral prints to baby dolls everything you want for spring weekends so come and shop like you mean It!