Built by Wendy
is fabulous! Simple casual clothing with a twist! Here's a wonderful pinstripe button-up with a tie collar and an askewed tie sewn along the middle edge of the shirt.
Love it!
Great with jeans or skirt! or underneath blazer/jacket... 3/4 arm sleeves make it casual for everyday wear and the light cool colors make it fitting for the spring to come...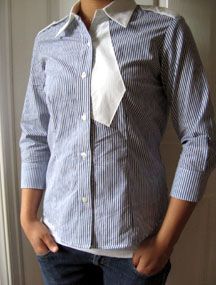 size:

small

measurements:

18" bust laid flat across

17" waist laid flat...

18.5" hip...

16" shoulder to shoulder

26" length of shirt
17.5" length of 3/4 arm sleeve


label: built by wendy
color: blue and white pinstripe with a white collar, white shoulder strap and faux tie
style: tie neck; sewn on askewed tie down the chest; 3/4 sleeves; 6 button-down, 2-button sleeve

material: 100% cotton
condition: preloved in great condition!

originally: $150
yours preloved for only: $52 (reduced!)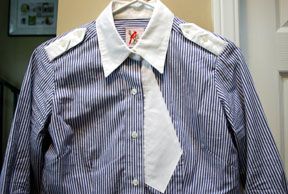 love it? to buy, email shopmycloset@gmail.com