Saturday, April 29th, 12-5 pm, free!
The Canvas Cafe & Gallery - 1200 9th Ave at Lincoln, San Francisco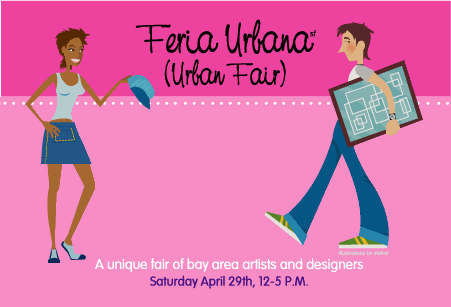 Feria Urbana is an urban fair made up of 20-25 local artists and designers selling a range of items at accessible prices. Find the latest chic and unique clothing, jewelry, home accessories, artwork, fashion accessories and much more. It's a shopping experience like no other - so don't miss out!



Featuring :

Kato's Charm, McClure Designs, Batle Studio, Chrysiliou Accessories, Rae Elle Designs, Tickle Baby, Artwork by Michele, Elysa Designs, Dian Ross Designs, booloo, Bella's Beaded Beauties, Girly Whirly, mi SPA, Paper Pastiche, Jill Killjoy, De Novo, Toys by Veta, 22 Tykoon, Earth Pots, Queen Puff Puff, Luna K Designs, Bari J. Handbags & Accessories, Cookie & the Dude.