Saturday April 1, 2006 , 12pm - 6pm
Club Six , 60 Sixth Street, between Market and Mission, street parking and a pay lot across the street
Admission - $3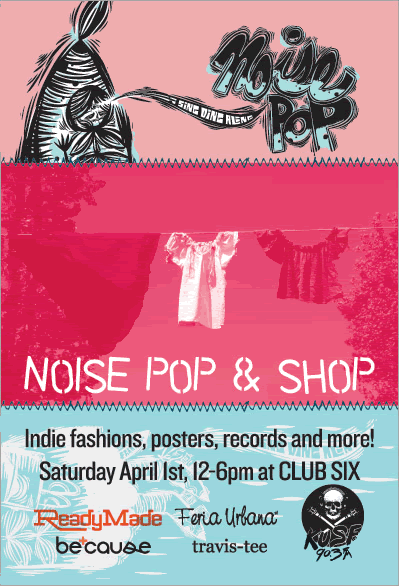 Noise Pop Festival, joins forces with KUSF's Rock 'n' Swap and everyone's favorite urban fair, Feria Urbana to bring together the first ever Noise Pop n' Shop!

This one day event, part of Noise Pop 2006, will feature the best local artists and designers selling the latest chic and unique clothing, jewelry and accessories. KUSF's famous Rock 'n' Swap, the giant record collectors fair, will also be on hand for all your vinyl needs as will KUSF's fine DJ's, serving up rocking beats all day long!

That's not all...! Our Noise Pop & Shop will also include the Noise Pop Poster Show - with original limited-run screen printed posters by local artists including Lil Tuffy, Justin Walsh, Jason Munn (Small Stakes) and more from Noise Pop festivals past and present will be on display and on sale at reasonable prices !

Original local fashion, rock poster art and bins full of rare records all together (drink specials at the bar too!) make for a shopping experience like no other. Don't miss out.