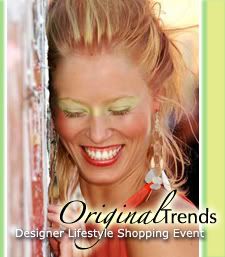 Saturday, May 20, 2006, 9:30am-4:30pm
Museum of Design and Architecture, 8609 Washington Blvd., Culver City, CA
General admission is $3 with RSVP or $5 at the door. VIP admission is $30 with RSVP while supplies last. Bring 2 friends with you, and one gets in free! For RSVP please email RSVP@OriginalTrends.com

Original Trends-Eco Luxury Designer Shopping Event
Style, Art, Fashion, and Designer Gallery, a composite of these artistic elements will merge as Original Trends - an art gallery lifestyle shopping experience featuring 50 of the west coasts' most unique, cutting-edge designers and artists. Come shop our Spring/Summer collections and find everything you're looking for. Event features modern jazz ambience, complimentary coffee and beverage bar for shoppers. VIP shoppers will receive free style consultation from celebrity stylist, Stephanie Faiella. Enjoy vegetarian food catered by Real Food Daily, and a wonderful Original Trends goodie bag worth $180.