here's a very spunky bright blazer for the summer season! the cut of the collar is really flattering... pair the blazer with jeans and you're set for a fun summer night!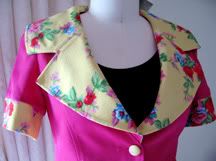 size: s/m
style: fitted blazer with princess lines; one fabric covered button below the bust; two side pockets; floral covered pockets, cuffs and longated collar

color: pink + floral on yellow
material: cotton/polyester

condition: excellent! one-of-a-kind blazer!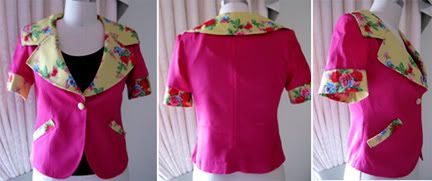 if you're the type of gal who can pull this fun top off, then you better grab it!
to buy, email shopmycloset@gmail.com.