B-Girl Be

: A Celebration of Women in Hip Hop




rap . graffiti . dj . dance . panels . fashion . poetry . visual exhibition . film


Thursday, June 29, 2006 (fashion show part of a longer summit)
B-Girl Be Fashion Show I 9:00 PM
B-Girl Be Fashion Show II 10:15 PM
Minneapolis, MN
$5 general public/ $3 members/ $2 youth 16 and under
Fashion Show: Curated by Brandi Phillips and Sarah White.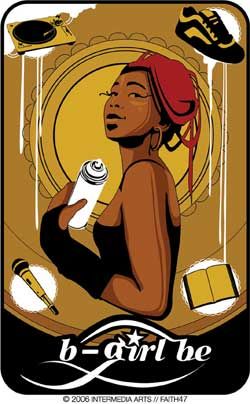 B-Girls come in many different sizes and styles, with all types of passions and skills. Throughout hip-hop, the fashion has changed and evolved into something that each can call their own. From baggy threads and baseball caps, to heels with a blinged out bikini, the many faces of hip-hop gear have affected the fashion trends of today and tomorrow.

Sarah White and Brandi Phillips do their best to open the door into the world of b-girl fashion. In it's many forms. With Performances by Isis, Aiyana Sol, Karma, Madeline "MadFresh" Howie, DJ Drea and more.