Vestiti Roupa: We've brought together the Bay Area's most innovative clothing, jewelry,
handbag, and accessory designers in a pleasant café ambiance. Admission is
free, come join us to have a drink and shop.
Sunday, December 10, 2006, 11-4pm
The Canvas Gallery, 1200 Ninth Ave. & Lincoln, San Francisco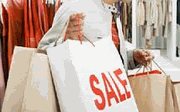 Designers include:

Ibi Couture, My Windup Bird, Verivaine T-Shirts, Peggy Li Creations, Tessa Kemp Jewelry, BT, MILA Boutique, Hilary's Dolls, Recover Your Thoughts, Brilliant Bindery, Enee Fabric, Silvermine Jewelry, Cara Lyndon Creations, Toys by Veta, Dzines by Donna, De Novo, LynnEyeStyle, Seraily Cultura, Salty Baby, Lina Shatara, Booty Bags, Juliet Michele, and Mimosa Studio. Also featuring designer samples from Trina Turk, Petro Zillia, Free People, True Religion, and Marc by Marc Jacobs- VERY limited selection and sizes.