bought this beauty off melrose ave. some years ago and it's still so gorgeous, and ready-to-wear! the detailing on the collar is what caught my eye... it gives it the extra flair! please give it a good home... great with jeans.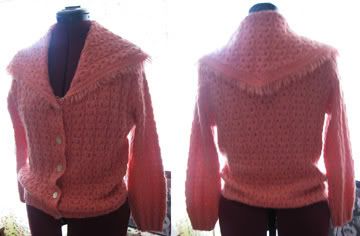 size: medium


bust: 18.5" laid flat across

length: 21"
sleeves: 20"


label: 100% turbo dupont

color: pretty in

pink



material: orlon acrylic

condition: vintage good

love it?
to buy, email shopmycloset@gmail.com.