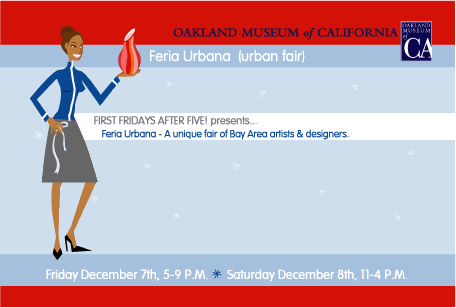 Get all your holiday shopping done and support local artists & designers at the same time! Come and enjoy great shopping for the latest chic and unique clothing, jewelry, home accessories, artwork, fashion accessories, baby items and much more. It's a shopping experience like no other and each event is different. So, don't miss out!

FREE ADMISSION - For shopping only & museum members.
$8 non-members, $5 students w/ID.
Includes admission to the museum's galleries &
FIRST FRIDAYS AFTER FIVE! in the Café.

FRIDAY December 7th, 5 - 9 P.M.
SATURDAY December 8th, 11 A.M. - 5 P.M.


Oakland Museum of California, 1000 Oak Street @ 10th, Oakland, CA



Friday December 7th:

Twelve Designs, Tasty Drawings, abstractsf, Amy Faust, Ruchi, Peggy Li Creations, Suzymac Designs, Em's Studio, New Year Design, McClure Designs, Green Halo Designs, Wenifnotnow, Jennifer Cole Designs, Wild on the Inside, Chi Cheng, Lynne Prather, Vanessa Gade Jewelry, Violet Star Creations, Pretty Fun/Rx Designers, Charming Sam, Jasper Hearts Wren, Culture Consumer, Bahay Bags, Juror2, Lovelina, 19th Day Design, Studio Cole, Molly M Designs, The Girl and Rhino, Lucinda Page Designs, ro-sham-bo, Jane Stahlhut, Estudio Martita, Shouting Violet, Serendipity Designs



Saturday December 8th:

RedStart, Remade in America, Davey Lady, The Weekend Store, Happy Moonmoon, Funky & Fabulous, Aiko Designs, Sprout Studio, booloo, Heather Palmer, Super Sugar Ray Ray, Lish, Queen Puff Puff, Vic Trend, Eye Think, Violet Star Creations, Field Day, Joy Rider, Fancy Jojo Designs, Designs by a Hummingbird, Susan Song Designs, Enee Fabric Design, Rock N Socks, Bug Under Glass, Replika, Birdie belle - paper & ink, Jessica Stephan Jewelry, Kate Durkin, Jennifer Cole Designs, Lucinda Page Designs, Terri Lee Pottery, Bon e Handmade, Bathing in Luxury, Melinda Mae, Electric Blue, Tickle the Ink, Bella Luxe Jewelry, Delynda DeLeon Designs, Jen & Mike Glass, Lizard Press, Miss Natalie, Kristen Boney, Monkey Meditates, Creativitee, Racy Ming, Ofina, Katherine Noyes, Deep Blue Sea