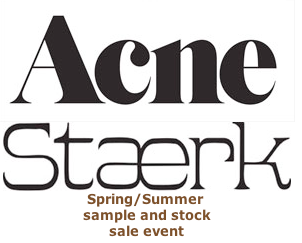 Acne
+
Staerk
Sample & Stock Sale Event
145 West 18th Street (6th – 7th Aves), NYC
July 22nd – 24th
T 1pm – 8pm, W - Th 10am – 8pm
50% - 70% off retail prices
212.388.0339
---
About Acne
Thank you Jonny, co-founder of Acne, for being the force behind Acne. In 1997 he was inspired to create one hundred pairs of jeans for friends, family and clients. This spawned into what we now know as Acne, a brand that has rocketed to the top of the a-list celebrities' most-wanted denim. Acne has received 5 awards for design, including some of the most coveted Elle's "Designer of the Year" and "Denim Designer of the Year"; which is amazing considering Acne started as a branding company!
Acne's devotees
Fashion forward stars such as supermodel Kate Moss and movie stars Charlize Theron, Chloe Sevigney and Maggie Gyllenhaal have been seen wearing Acne Jeans.
Where you'll find Acne
You will find these innovative jeans in Barneys, Bergdorf's, Saks and
Tobi.com
.
What you'll find
Skinny's, wide leg, and the perfect "boyfriend" cut.
-------
About Staerk
Danish born Camilla Staerk began her design career in London, where she was dubbed by British Vogue "a future star." Top Shop (London's version of H&M) has awarded her their New Generation Award three times. She has since relocated to New York, introducing new, more American ideas to her clothes, while maintaining her "Staerk-ness." Inspired by suburban America in the early 1990's, Walk With Me, her Spring/ Summer 2008 collection, is Camilla Staerk's first official American collection. Drawing ideas for colors and silhouettes from a high school girl's wardrobe, this collection plays with innocent colors mixed with restricting fabrics. An unexpected blend of textures and shapes brings a womanly air to this girlie collection.
Staerk's devotees
Maggie Gyllenhaal, Sarah Jessica Parker, Liv Tyler and Julianne Moore are just to name a few.
Where you'll find Staerk
Her magnificent collection is available in only the finest boutiques worldwide.
What you'll find
Beautiful dresses, colorful blouses, your perfect knit top, killer shoes, and your perfect weekend getaway bathing suit!