July 20th - August 7th... emg will be taking over
I Heart
with our vintage digs!!! Along with the vintage sale, all of I Heart spring merchandise will be 30% off. That's right.....ALL OF IT! so come get some great deals on I Heart merchandise and find some hot new vintage finds as well!
*Opening Reception*
I Heart vs. EMG
Sunday, July 20th, 2pm-6pm
I heart boutique, 262 Mott St., NYC
Refreshments provided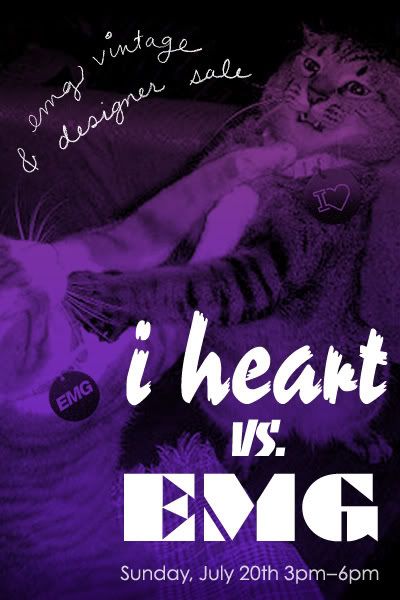 a few examples...
rompers! $25-37.50
70's highwaisted light denim shorts $25.50
70's all-over goose-print red, white, and blue dress- so cute! $42.50
80's Koos van den Akker patchwork skirt/top set $68
80's Marimekko-print tunic $42.50
80's mesh open-toe flats $25
70's light blue sleeveless cotton jumpsuit- perfect for summer nights! $37.50
70's yellow wedges $27.50
Hanae Mori flower print silk dress $45
70's dior sunglasses $145