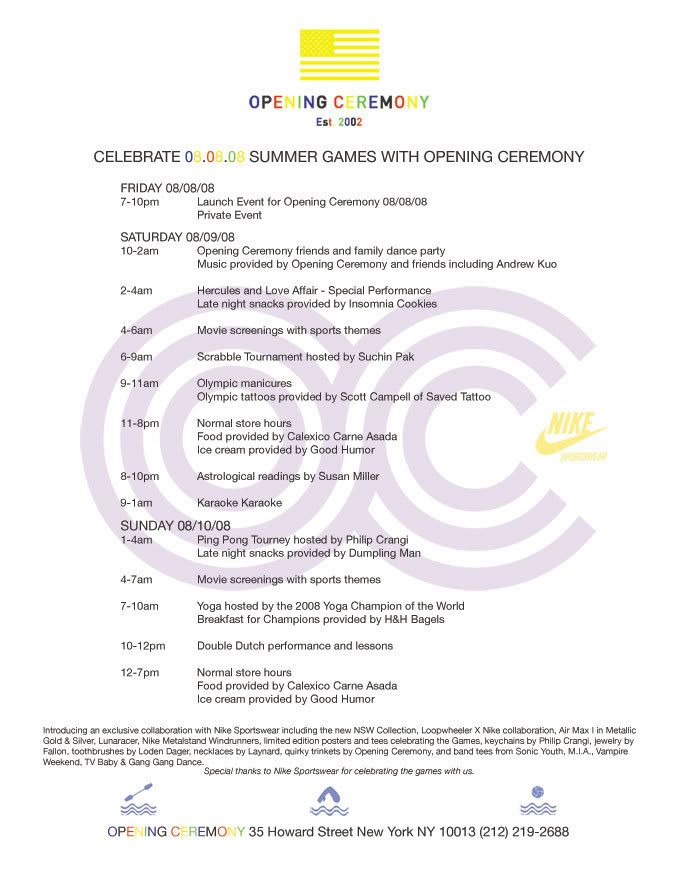 CELEBRATE 08.08.08 SUMMER GAMES WITH OPENING CEREMONY

FRIDAY 08/08/08
7-10pm
Launch Event for Opening Ceremony 08/08/08 (Private Event)

SATURDAY 08/09/08
10-2am
Opening Ceremony friends and family dance party
Music provided by Opening Ceremony and friends including Andrew Kuo
2-4am
Hercules and Love Affair - Special Performance
Late night snacks provided by Insomnia Cookies
4-6am
Movie screenings with sports themes
6-9am
Scrabble Tournament hosted by Suchin Pak
9-11am
Olympic manicures
Olympic tattoos provided by Scott Campell of Saved Tattoo
11-8pm
Normal store hours
Food provided by Calexico Carne Asada
Ice cream provided by Good Humor
8-10pm
Astrological readings by Susan Miller
9-1am
Karaoke Karaoke

SUNDAY 08/10/08
1-4am
Ping Pong Tourney hosted by Philip Crangi
Late night snacks provided by Dumpling Man
4-7am
Movie screenings with sports themes
7-10am
Yoga hosted by the 2008 Yoga Champion of the World
Breakfast for Champions provided by H&H Bagels
10-12pm
Double Dutch performance and lessons
12-7pm
Normal store hours
Food provided by Calexico Carne Asada
Ice cream provided by Good Humor
Introducing an exclusive collaboration with Nike Sportswear including the new NSW Collection, Loopwheeler X Nike collaboration, Air Max I in Metallic Gold & Silver, Lunaracer, Nike Metalstand Windrunners, limited edition posters and tees celebrating the Games, keychains by Philip Crangi, jewelry by Fallon, toothbrushes by Loden Dager, necklaces by Laynard, quirky trinkets by Opening Ceremony, and band tees from Sonic Youth, M.I.A., Vampire Weekend, TV Baby & Gang Gang Dance.
Special thanks to Nike Sportswear for celebrating the Games with us.
Opening Ceremony 35 Howard St New York, NY 10013 Tel 212-219-2688
-------------
very excited! i'm there! come join me for a game of scrabble!