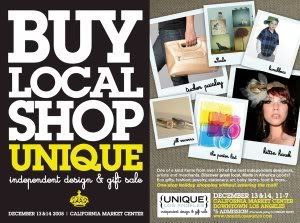 December 13th & 14th, 11 am – 7 pm

California Market Center, Downtown Los Angeles (Map It)

110 East 9th Street, Los Angeles, CA 90079

$5 per ticket

(children 10 and under are free)

50% of ticket sales benefiting a local arts-based charity for kids (TBA)

UNIQUE LOS ANGELES
is an exciting two-day shopping event that showcases independent design talent at great prices. Just in time for the holiday shopping season, the event brings together over 150 of the best designers, artists and merchants. We believe in supporting the community, we thrive on individualism, and we hope to introduce independent design to the masses. Whether you're a hipster, a soccer mom or a tween, at UNIQUE LOS ANGELES there truly is something for everyone! 
Clothing & Accessories • Stationery • Jewelry • Housewares • Artwork • Ceramics 

Gourmet Edibles • Plush Toys • Books • Photography • Screenprints • Plus more! 

Designed to foster and support the creative community, while also stimulating the local economy, the show's mandate is to bring over 225 independent vendors to the masses, all under one roof. On top of shopping the wide variety of offerings, the event boasts exciting Extras & Amenities: the creative and interactive DIY Lab, the Cali Café, and a comfortable Lounge area.