jumelle will be hosting its' annual closet cleaning sample sale
Thursday, February 12th - Monday, February 16th. Current fall/winter
and past seasons inventory will be up to 75% off. Shop for all
seasons on collections by Alexander Wang, Bodkin, Mayle, Peter Jensen,
Rachel Comey and too many more.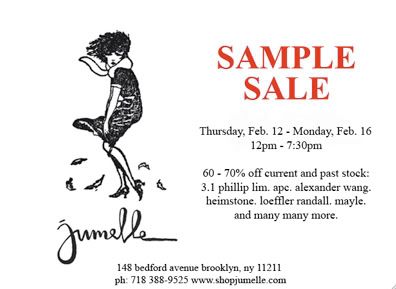 jumelle
148 Bedford Avenue (b/w North 8th and 9th streets)
Brooklyn, NY 11211
718 388-9525
www.shopjumelle.com

Monday 12-7:30pm
Tuesday-Saturday 12-7:30pm
Sunday 12-7pm

We accept cash, Mastercard, Visa and American Express.