Here's an intelligent, witty, bold piece to add to your closet!
Wooden Mustache
combines childhood elements with sharp bold cuts to create fun clothing pieces!
Wooden Mustache (Wearables) - independent label

Spring 2003 Collection

Linen/Cotton - Dry Cleaning Only

Size Medium

Waist measures 15.5"
Bust measures 17"
Hip measures 21"
Length measures 22.5" long

Cream, Teal and Pale Yellow
Black Buttons with Green Stitching
Bottom Edge has Raw Hemming

Black Lining!
Wooden Mustache
has been featured in
"Here Today, More Expensive Tomorrow"
in
Village Voice
NYC,
MetroPop
magazine, and GenArt's
Fresh Faces
Fashion Show in LA.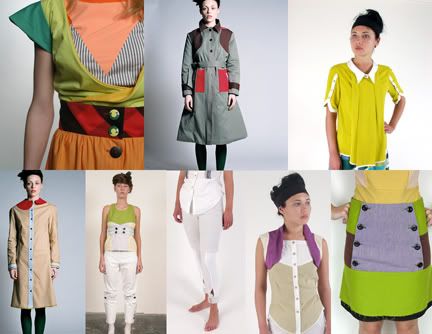 You can purchase selected items from Spring 2006 collection from
Elegant Elevator
and
ChocoSho
.
*note: collage of pieces from Spring 2003-2006. these pieces are not included in the sale.


Retail: $168
ShopMyCloset: $64
Love it?
Email ShopMyCloset@gmail.com to buy this unique top!