Feria Urbana is coming back in the month of February after taking a little break for January. Come and enjoy shopping for great items from local artists and designers. Find the latest chic and unique clothing, jewelry, home accessories, artwork, fashion accessories, baby items and much more. It's a shopping experience like no other. Every event is different so don't miss out!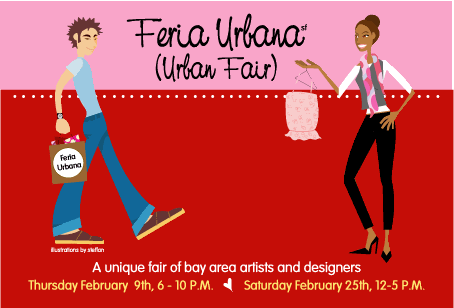 THURSDAY February 9th, 6 - 10 PM, Free!
The Canvas Cafe & Gallery - 1200 9th Ave at Lincoln , SF



Feb. 9th:

Coco-luxe Confections, Elysa Designs, Swandive Design, E2 Designs, Lova Bijou, Olivia Gallander Jewelry, Butterfly Creations, Alaya Designs, a.k.a design, A Label, Cookie & the Dude, Rue Inc., Custom Industries, Magenta Inc., Olive & Page, Vicki Mitteco, Anonymous Apparel, Sandy Reyes, Robert Joseph, Rebecca Rubin

UPCOMING EVENTS
Saturday February 25th, 12 - 5 P.M.
Saturday March 25th, 12-5 P.M.