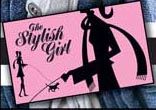 The Stylish Girl Denim & Diamond Sale
February 10-11, 2006
2nd Event Date: Saturday February 18th and 19th, 11am-3pm Location:1515 Second St., Manhattan Beach (west of Aviation and east of Sepulveda)
No admission fee or RSVP required.

The Stylish Girl is expanding their fantastic sales to two events at two new locations. February is "Denim & Diamonds" month at The Stylish Girl. They have sparkly diamonds for girls who love bling and awesome jeans for girls who love denim. Labels so hot that we're not allowed to mention. Extras from Lily McNeal, Pucchini, & Cake, J&Company, Velvet, Jackie & Piper, all way below retail! So come and shop like you mean it at The Stylish Girl, two fantastic sales in West LA and Manhattan Beach.